The Studio: Rock, Jazz & Folk
The Studio: Rock, Jazz & Folk at The Music School of Delaware offers special workshops that explore contemporary genres with local luminaries.

The Studio: Rock, Jazz & Folk Faculty Concert
Sunday, February 11, 2018 • 3 p.m. • Wilmington Concert Hall • $10/5

This concert highlights the wide ranging abilities and musical passions of our instructors (and special guests) in the fields of rock, jazz and folk. It promises to be full of energy, surprises and originality.
Open Mic Nights
Select Thursdays (10/12, 12/14, 2/8, 4/12, 6/14) • 6:30 / 7 p.m. • Wilmington Concert Hall • Free

Join us for our bi-monthly open mic night, held the second Thursday of each month in October, December, February, April and June. Pro-quality equipment provided: drum set, grand piano, electric piano/synth, guitar/bass amplification available upon request, microphones, PA system and monitors. Signs-ups at 6:30, event starts at 7pm. After-party!
JAM IT! Bluegrass & Old Time Acoustic Sessions
Select Saturdays (9/16, 10/21, 11/18, 12/16, 1/20, 2/17, 3/17, 4/21, 5/19, 6/16) • 2–4 p.m. • Wilmington • Free
Want to jam? Prefer to hang and listen? This monthly jam session for string instruments brings together bluegrass & old time enthusiasts. All ages; all levels; all welcome! Sessions occur on the third Saturday of every month between September and June.
Return to top
---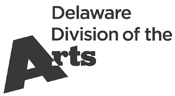 This organization is supported, in part, by a grant from the Delaware Division of the Arts, a state agency, in partnership with the National Endowment for the Arts. The Division promotes Delaware arts events on www.DelawareScene.com
.

The Music School of Delaware is proud to be an active partner in the IN Wilmington Arts Campaign.