Family Events
Age-appropriate themed events that engage young children and their families in hands-on musical activities!

Early Childhood Family Music Play Date
Wednesday, June 14, 2017 • 10 a.m. • Wilmington Branch • $10 per child or $15 per family
Come experience a wonderful variety of music, instrument play and dance as we preview our summer classes. Must register to participate. For ages 15 months to 4 years.
June Jam with M&M and Friends
Saturday, June 17, 2017 • 11 a.m. • Wilmington Branch • Free
Fun in the sun with M&M and Friends. A summer themed interactive family concert geared for ages 2–8.
Return to top
---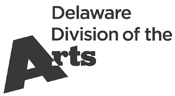 Programs are supported, in part, by a grant from the Delaware Division of the Arts, a state agency, in partnership with the National Endowment for the Arts. The Division promotes Delaware arts events on www.DelawareScene.com
.

The Music School of Delaware is proud to be an active partner in the IN Wilmington Arts Campaign.