Faculty, Alumni & Friends Performances
Chamber music and solo performances by our faculty artists, alumni and guest musicians. Join us for an exciting season of "music excellence for everyone!"

Music Masters: Pianofest!
Wednesday, May 3, 2017 • 7 p.m. • Wilmington Concert Hall • $10/5

Amy Beach
Fireflies
Beethoven
Bagatelles, Op. 119
Brahms
Sonata for two pianos, Op. 34a in f minor
Chopin
Selections from Preludes, Op. 28
David Auldon Brown
Three Preludes
Debussy
Golliwog's Cakewalk & L'Isle joyeuse
Jennifer Nicole Campbell
Variations on Simple Gifts
Gershwin
Rhapsody in Blue
Kirk O'Riordan
Twenty-Six Preludes for Piano (2014)
Schumann
Romanze, Op. 28, No. 2
Pianists David Brown, Jennifer Nicole Campbell, Richard Gangwisch, Dr. Oleg Maslov, Liliya Maslov, Dr. Holly Roadfeldt
Music Masters: Music of Many Nations
Tuesday, May 16, 2017 • 7:30 p.m. • Avenue United Methodist Church, Milford • $10/5

Arban
Fantasie Brillante
Boccherini
Quintet in D Major, G. 448
Mozart
Horn Quintet, K. 407
Sinigaglia
2 Stücke, Op. 28
Torelli
Trumpet Concerto in D Major
Tchaikovsky-Rachmaninoff
Lullaby
Various
Songs for Soprano and Countertenor
Nagoya String Quartet (Jessica Hoffman violin, Julianne Ruiz violin, Kate Inie-Richards viola, Jennifer Crowell Stomberg cello), Christopher Braddock guitar, Patrick Hoffman trumpet, Sara Hoffman horn, Liliya Maslov piano, Augustine Mercante countertenor, Joanne Ward soprano
Return to top
---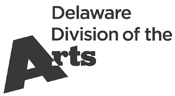 Programs are supported, in part, by a grant from the Delaware Division of the Arts, a state agency, in partnership with the National Endowment for the Arts. The Division promotes Delaware arts events on www.DelawareScene.com
.

The Music School of Delaware is proud to be an active partner in the IN Wilmington Arts Campaign.