Ensemble Performances
Delaware's premier ensembles for children, teens and adults present family-friendly programs.

ORCHESTRAL ENSEMBLES
Delaware Youth Symphony Orchestra
Saturday, June 3, 2017 • 7:30 p.m. • TBA • Free
Join us for our Italy tour Send-Off concerts!
Saturday, June 17, 2017 • 7 p.m. • St. Anthony of Padua Church, Wilmington • Free
Wednesday, June 28, 2017 • 7:30 p.m. • Strathmore Hall, Rockville, MD • Free
Conducted by Maestro Simeone Tartaglione, the DYSO is coached by highly qualified artists from the Music School and major orchestras along the East Coast, as well as professional guest conductors from renowned institutions.
Simeone Tartaglione
music director
Wilmington Community Orchestra
Contemporaries
Friday, May 19, 2017 • 7:30 p.m. • Wilmington Concert Hall • $10/5

Humperdinck
Overture to Hansel and Gretel
Dvořák
Symphony No. 8
Performances by Winners of the Delaware Concerto Competition for Young Musicians
Tiffany Lu
interim music director
Suzuki Academy Orchestras
Saturday, May 20, 2017 • 4 p.m. • Wilmington Concert Hall • Free
The Music School's Suzuki orchestras perform rounds, traditional and folk songs, as well as age-appropriate transcriptions of major orchestral pieces.
Julianne Ruiz
conductor
CHORAL ENSEMBLES
Delaware Women's Chorus
Cokesbury
Monday, May 22, 2017 • 7 p.m. • Cokesbury Village, Hockessin • Free
The Delaware Women's Chorus will perform a special concert for the residents and friends of Cokesbury Village.
European Tour Send-Off Concert
Tuesday, June 20, 2017 • 7 p.m. • Wilmington Concert Hall • Free
This concert will highlight the full program the Delaware Women's Chorus will take on their Austria and Czech Republic tour, with the themes of diversity, acceptance and peace.
Joanne Ward
conductor
Return to top
---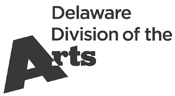 Programs are supported, in part, by a grant from the Delaware Division of the Arts, a state agency, in partnership with the National Endowment for the Arts. The Division promotes Delaware arts events on www.DelawareScene.com
.

The Music School of Delaware is proud to be an active partner in the IN Wilmington Arts Campaign.