Cultural Crossroads
Celebrate the rich musical diversity of our world and our very own community through events that integrate a variety of arts and cultural traditions.

Revolutionary America
Sunday, November 19, 2017 • 3 p.m. • Wilmington Concert Hall • $10/5

This multifaceted event will feature highly interactive performances of sea shanties and country dances, as well as fife and drum music by the 1st Delaware Regiment and presentations by the Chadds Ford Historical Society on 18th-century chocolate making and Revolutionary War spycraft.
Martin Luther King, Jr. & Black History Tribute
Proceeds benefit the Jacqueline Beach Faulcon Scholarship Fund
Friday, January 12, 2018 • 7 p.m. • Wilmington Concert Hall • $5

Join us as we remember Dr. King 50 years after his death. This special program will include performances by the DuPont Diversity Choir, Clarence and Jacqueline Faulcon, Fuzaholics, student winners of the Jacqueline Beach Faulcon Scholarship and readings from Dr. King's esteemed life and career, and more!
Music of Many Lands
Sunday, April 15, 2018 • 3 p.m. • Wilmington Concert Hall • $10/5

This diverse concert will showcase Indian classical dance, a West African ring shout, Celtic and Sephardic songs and music of the Black Sea. After the concert, enjoy a piece of birthday cake as we celebrate the 10th anniversary of the Cultural Crossroads Series.
Return to top
---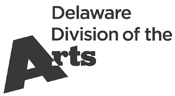 This organization is supported, in part, by a grant from the Delaware Division of the Arts, a state agency, in partnership with the National Endowment for the Arts. The Division promotes Delaware arts events on www.DelawareScene.com
.

The Music School of Delaware is proud to be an active partner in the IN Wilmington Arts Campaign.